If you worked hard to reach a certain status in your career (coupled with income), it's not any different from an artist making it to the galleries, a chef opening his own restaurant, or even a college jock successfully laying 10 hotties in 1 semester . Feel free to take pride in your accomplishments!
Now let's talk about money ;p
Let's face it, money makes the world go around, buys fast cars, and make even faster women open their legs. But, ultimately, you cannot take it with you, and being the richest man in the cemetery isn't a winning competition. If you enjoy a life of material poverty, or want to be buried under a gold-plated pyramid, OK, whatever makes you happy. I'm on the phone at work today, supporting a guy working 7,000+ ft underground in a Canadian mining operation. This dude is like a gopher and absolutely loves his job underground.
For the rest of us, find your own balance between "work" and "leisure" with an exit strategy to get out of the rat-race. America is not going down the tubes just because you want to retire early. There's virtually endless supply of poor-er people around the world who'd love to ditch their piss-poor village and immigrate to the US, work 50+ hours/week and make middle-class with house and car in the drive-way. By all means, let them do what makes them happy! You, find the exit sign!
Ditching your 6-figure job in the US and moving abroad doesn't mean a reduction in your potential income, unless if you choose the lifestyle and work/play balance that leads to it. There are countless opportunities to make a lot of money abroad. If you had the ability to make 6-figures in the US, who's to say that you cannot do the same abroad? Make good money and live well! Let some other bloke live in a sh*tty flat in the slumbs. You, go live in a nice seaside cottage:
Dine on rack of lamb for dinner: (eat less in quantity but higher in quality)
And have her clean your house: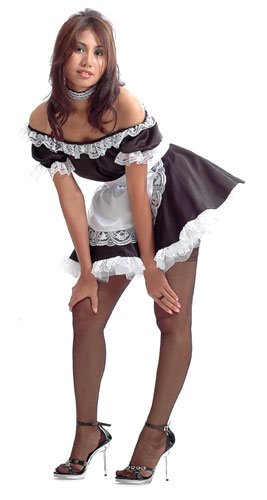 p.s. many Asians like almond-flavored breads and deserts. This was a big hit at my friend's wedding, and might sell well in Asia: